Product Availability:
In stock
RS350AU
Rubber
Speed
Hump


Squared design


Commercial grade


Manufactured from a durable, injection-moulded, crush resistant, rubber compound


Ideal for shopping centres and busy car parks


Trafficable immediately after installation


Fixings included


Build a speed hump to your desired length


Complies to Australian Standard AS2890.1


Our RS350AU is a stylized squared alternative to our regular RS350 speed hump.. The system is supplied in alternate black and yellow 25cm modules, and features rounded end caps for an attractive finish. Speed humps can be built to any required length, simply butt the 25cm modules up against each other until the desired length is reached. Please call for pricing and further details.
Try to avoid installing speed humps on bends where vehicles may be turning on top of them as it will shorten their lifespan.
| | |
| --- | --- |
| SKU | Description |
| RS350AU/B | RS350 Speed Control Hump - Body Module Black |
| RS350AU/Y | RS350 Speed Control Hump - Body Module Yellow |
| RS350AUEC/B | RS350 Speed Control Hump - End Cap Module Black |
| RS350AUEC/Y | RS350 Speed Control Hump - End Cap Module Yellow |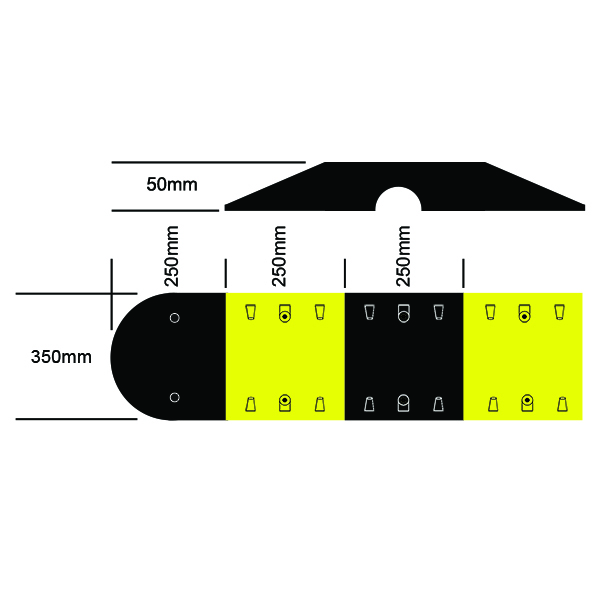 Product Specifications
| | Length | Height | Width | Shape | Fixings |
| --- | --- | --- | --- | --- | --- |
| RS350 | 350mm (in direction of travel) | 50mm | 250mm | Curved | 4 – 12mm x 65mm Coach Screws (DynaBolts available on request) |
| RS350AU | 350mm (in direction of travel) | 50mm | 250mm | Squared | 4 – 12mm x 65mm Coach Screws (DynaBolts available on request) |